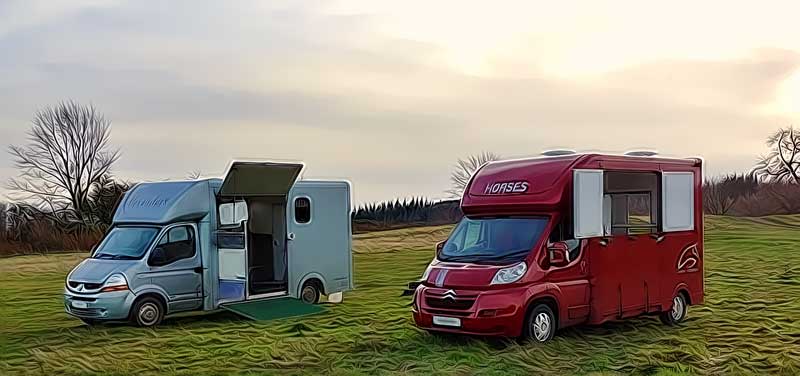 Call FREE
Horsebox Insurance
Instant Quote >>
We can arrange horsebox insurance cover for all types of van and lorry based horseboxes from 3.5 tonne van based horseboxes up to 17.5 tonnes and £40,000 in value.
Cover is for Social Domestic and Pleasure use only including carriage of horses and associated feed and equipment, not for hire or reward. We can only arrange cover for UK residents.
Comprehensive Cover
Accidental damage cover for your vehicle in addition to third party fire and theft cover.
Replacement locks following theft of keys up to £500.
New for Old - Cost of repairs must exceed 60% of manufacturers retail price during first year of registration as new.
Personal Accident for yourself and your partner, up to £5,000 if directly related to an accident involving the insured vehicle.
Alternative accommodation or travel - If you are unable to continue your journey as a result of accidental loss or damage to the insured vehicle - up to £500 for accommodation or travel.
Windscreen Unlimited windscreen or window glass repair or replacement. Subject to £75 excess if you use Highways approved service otherwise £150 applies.
£300 of Personal Belongings cover.
Unlimited cover for loss/damage to factory fitted in-car entertainment equipment.
Up to £500 cover for in-car entertainment equipment not fitted as part of original build.
Excess - minimum £100 but varies depending on the value of your horsebox, the figure is clearly stated with your quotation.
Towing a trailer - your liability is covered for towing a trailer or broken-down vehicle so long as the towing is allowed by law and providing it is properly attached by towing equipment made for this purpose. Note the trailer cover is limited to third party liability claims only. There is no cover for loss or damage to the trailer or contents.
Cover is NOT provided for driving other vehicles.
Discount for Limited Mileage This is an unlimited mileage policy but if you intend to do less than 5,000 miles a year you can apply for a discount.
Third Party, Fire and Theft
Following an accident the insurer will cover your liability to other people for injury (unlimited) or damage to their property (up to £5 million).
If your vehicle or accessories are damaged by fire, theft or attempted theft the insurer will repair the damage/replace what is lost or stolen.
Cover up to £150 for in-car entertainment equipment.
Excess - £100
Protected No Claim Discount available if you have four or more years NCD to use on this vehicle.
European Cover
The cover applicable to the policy (ie comprehensive or TPFT, depending on which you have selected) is extended to all member countries of the European Union, Andorra, Iceland, Norway and Switzerland for a period not exceeding 90 days in any one Period of Insurance. After 90 days minimum cover only applies in these countries. If the UK leaves the EU without an agreement you will need to carry a Green Card to prove that you have the legally required cover for countries in the EU/EEA. We are issuing free annual Green Cards. Please contact us on 0800 3282084 to arrange for us to send you one. If you tow a trailer you can request a Green Card for this as well.
Republic of Ireland
If you live in Northern Ireland your policy is extended for temporary use in the Republic of Ireland without a limit of days. So you can pop over the border whenever you like. See note above regarding Green Cards.
What is not insured?
Where an excess applies you will be required to pay this in the event of a related claim.
Death or injury due to suicide, attempted suicide, drugs or alcohol or failure to wear a seat belt as required by law
General wear and tear including to tyres, brakes etc.
Intentional damage by the policy owner or named drivers.
Theft if you leave your vehicle unlocked, with a window or sun roof open, with vehicle keys or other ignition device in, on or in the immediate proximity of the vehicle.
The insurance cover you need
Unlimited Mileage
Our policy is an unlimited mileage policy but we offer a discount if you do less than 5,000 miles a year.
For further information click here: Summary of horsebox insurance cover, IPID.
Northern Ireland Horsebox Insurance
We are delighted to be able to offer cover for horseboxes based in Northern Ireland. And because of the unique situation of Northern Ireland, being the only part of the UK that has a land border with another country, the cover that we arrange has a special extension that takes care of that. Temporary cover for use in the Republic of Ireland is included for all Northern Ireland resident horsebox insurance clients at no additional cost. This means that you can pop over the border every day or for longer trips. It is only available to Northern Ireland residents whose main place of residence is Northern Ireland.
Instant Quote >>
I'll try to help you save even more

Phone one of our friendly people on:
0800 3282084
Call Free
Mon - Fri 9am - 6pm
Sat 10am - 12noon